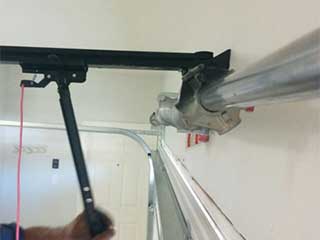 Our experts suggest that Garage doors must be inspected on a regular basis to prevent unforeseen malfunctions and catch any potential ones in time. When deciding to perform an inspection, please consider the dangers involved and implement the proper safety percussions. Many garage door parts are operating under high amounts of tension and can cause severe bodily harm, so you must avoid trying to handle any discovered complication by yourself. By performing these checkups, you can gain a solid understanding of the condition of your system mechanism.
Inspect parts thoroughly and carefully
There are many components that you can check for wear and tear such as cables, rollers, pulleys, and garage springs. You should only check whether they are lubricated, eroded or need some tightening, and not go further into more advanced tune-up technics.
Checking the manual release chord
Make sure the manual release cord is functioning correctly. It can be identified as the red cord dangling down from the track. Pulling the cord should release the door from the opener, which allows you to manually open the door in case of a power outage or other emergency.
Examining the panels
While keeping the door closed, go ahead and inspect the panel for wear and tear. If any of the sections become damaged or loose they may disrupt the entire operating process, or at the very least decrease the system's efficiency. Leaving loose panels unattended means running the risk of getting your limb pinched and possibly causing severe bodily injury. The bottom seal should be visually inspected as well. Raise the door to your eye level and look for any looseness and tears.
Testing the sensors
It's also important to test the opener sensors. In order to test the safety reverse feature, place an obstruction such as a 2×4 plank on the floor in the door's path and then try to get it to close. Once the bottom part reaches the obstruction the door should automatically begin to reopen. This feature prevents the system from crashing down on any pet, person or property that could get caught in its path. Federal law mandates that all garage door openers made after 1993 have this feature installed.