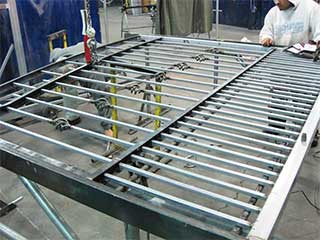 Everybody knows we're a well-known service provider as far as garage doors are concerned, but did you know that our technicians are also extremely knowledgeable in gate repair and various other related services? We know the importance of gates for the security of your home, which is why we've invested a lot in gaining the proper knowledge and expertise to allow us to handle the many different types out there.
We use branded and latest tools and equipment for our services
Apart from having incomparable technical skills, our technicians are always prepared to deliver professional assistance to your gate. As part of our goal to offer exceptional service, our team continuously studies the latest in home gate related trends so we can recommend the highest-quality products to our clients.
Electric gate repair
Nowadays, the most commonly used gates are the automated kind. Our experts can meticulously inspect the motor and wires and replace any worn-out parts if any are found. They always come "loaded for bear", ready and willing to offer the right solution to any problem, big or small. Your gate's malfunctions don't stand a chance.
Gate maintenance
All we want is for our customers to have perfectly functioning gates. That's why we encourage regular maintenance. By following a step-by-step process, our technicians are able to complete those necessary checkups without missing anything.
Replacement of different parts
We have different sets of parts for every kind of gate, including all the most well-known brands. If there is a need to replace certain parts, we can safely remove the damaged models and then properly install the new ones.
Opener installation
Apart from recommending the brand that best suits your needs, and proceeding with safe and correct installation, our technicians can also share useful tips and information on how to fully enjoy all of the opener's features.
Safety sensor repair
If your gate sensors are not functioning properly, Garage Door Repair Corona's professional technicians possess all the required knowledge to detect the problem quickly and then resolve it in no time.